Reviews & Testimonials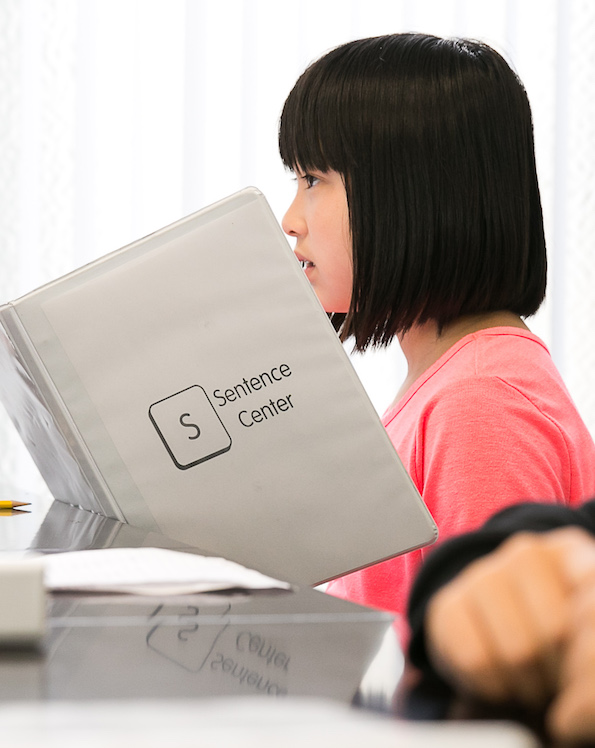 From Parents
"Saying that my daughter has enjoyed your class would be an understatement.  When we hit the 101 North each day I can see the anticipation in her eyes. After class she's giddy.  In the evenings she reads her prices to me with pride. Her formal essay writing is becoming more polished and, most importantly, she's happy to continue the process of honing her craft." - Shiela J.
"We were impressed with our son's first essay for his English class this year.  It was organized, had good use of vocabulary, and some nice phrasing. He embellished it to make it more interesting, his organization was outstanding (I had to take a moment of quiet celebration when I saw 5 lengthy paragraphs over the page and half that was single spaced), and his voice really came through.  Really impressive considering where his skills were before.  I really think my boys honed in on your every word, and your teaching has stuck with them." - Sarah O.
"The classes enriched my son's vocabulary and improved his writing significantly which has resulted in higher grades in school, great remarks by the teachers, as well as increased motivation levels."  - Tamara M.
"Sentence Center's high standards and invitational style has made my son's writing practice accessible, effective, and even enjoyable.  This class is definitely worth the investment." - Jessica L.
"My daughter is now confidently expressing her ideas with ease and shows organization in her writing. She enjoys the classes so much that she looks forward to them every week."  - Kartini M. 
"After just the first week of class, I couldn't believe that the essay I was reading was written by the same person. Somehow [Sentence Center] cracked the shell she was confined in and let her thoughts and feelings expressed with much more eloquence, that it was as if she grew two feet overnight."  - Euisung L. 
"In only a short time [with Sentence Center], we have already seen great improvement. My daughter's Language Arts teacher said that her voice has started to emerge; she now uses new vocabulary and enjoys writing. My son has improved in making his essays more personable and has started to include his experiences and voice into his writing."  - Rika T.
"Our son has seen the improvements himself and enjoyed writing all different essays. We saw a big improvement as well so the class was well worth the investment."  - Carsten F.
"My kids throughly enjoyed the writing class and looked forward to it every afternoon. The kids came out of the two week class with a sense of confidence as writers."  - Nimisha P.
"Sentence Center helped us with private high school applications. They were very familiar with the process and helped my son create impressive applications. Their approach is truly personal, and they offered constructive yet positive feedback. My son left their sessions knowing exactly what he needed to work on before their next meeting." - Teresa S. 
"Sentence Center has been a huge help to my son in improving the fluidity and authenticity of his writing voice. In addition to excellent coaching, they are very warm and personable and established such good rapport that my son looked forward to every session. As a side benefit, on practice exams, his SAT writing score went up by 150 points."  - Nicole N.
"Thanks to Sentence Center, our son did amazing at his SAT and entered Carnegie Mellon! Great job!"  - Valerie O.
From Educators
"I'm an educator myself, so I recognize the good teaching skills...  [Sentence Center] sets students up for success by providing warm-up vocabulary games, as well as mentor texts so the students have a clear example to follow.  They follow up by giving specific and kind feedback about their writing.  Writing is one of the hardest things to teach, but they are truly gifted at it."  - S. Orton (Administrator, San Carlos School District)
"[Sentence Center] chooses interesting topics for the kids to write about, and uses fun activities and models to encourage them to take their writing to the next level, one manageable step at a time."  - Mrs. L. (Teacher, The Carey School)
"After seeing such an improvement in previous students of Sentence Center, I can wholeheartedly and enthusiastically pass on a recommendation when parents ask me for help outside of school.  Thank you for having such a positive impact on so many students."  - Mr. S. (Language Arts Teacher, San Mateo-Foster City School District)
"I am always happy to recommend Sentence Center to parents! I've heard only wonderful things about you from others, so I can recommend you with confidence."  - Ms. Y. (Language Arts Teacher, Belmont-Redwood Shores School District)
From Students
"Sentence Center instilled in me the discipline to practice. Their thoughtful edits and guidance significantly improved my writing abilities. With their help and support, I got (and accepted) an offer to attend Yale."  - TJ L. (Director, Fidelity Investments)
"Sentence Center helped me improve my writing such that I am now comfortable writing long essays on my own.  They guided me in writing my college application essays, and I was very happy with the final result: I was accepted to Carnegie Mellon University. At college, I realized I was leagues above everyone else when it came to writing."  - Baptiste V. (Student, Carnegie Mellon University)
"When my dad first signed me up to Sentence Center, I was reluctant to join since writing wasn't my favorite. After a while, I started to get used to the essay-a-week routine and I have started to appreciate writing more and more. Every week, we would get interesting assignments and valuable writing tips that have helped me improve greatly."  - Grace C. (9th grader)
"I love the way that they teach their classes! I wish that I could come for another two weeks and then another two weeks after that and on and on and on." - Nico L. (8th grader)
"Thanks for teaching me how to make outlines, split up paragraphs, and put more descriptive words into my writing masterpieces!" - Kieran L. (7th grader)
"Sentence Center is the way to pull ahead of your class in writing. It really works." - Truman L. (6th grader)