Our Story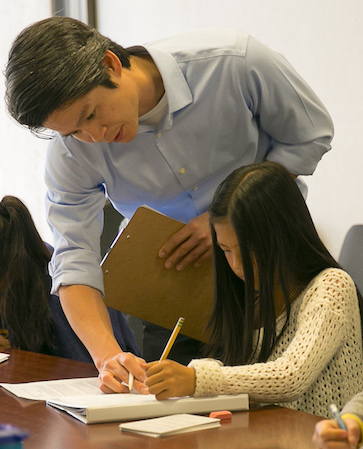 Javy, a normally vivacious fifth grader, stares at a blank computer screen. His energy sapped, he sighs, buries his cheek into his palm, and says, "I just don't know what to write." Similarly, Maia, his third grade sister, jots down a few words on her binder paper and stops. Searching for any form of assistance, she asks, "How can I make this paragraph longer?"
We have seen this scenario before. In addition, many parents have come to us with these dilemmas:
   "I know he has all these great thoughts in his head, but he can't seem to get them onto paper."
   "She has trouble getting started."
   "His writing is very short and lacks detail."
   "My kids don't write enough at school."
To address these growing concerns and help students become better writers, we started Sentence Center.
Our Masterpiece Writing Method is unlike any traditional Language Arts curriculum. Our structured classes are small, engaging learning groups. Our original instructional materials are never lifted from textbooks or websites. Our teachers have a combined classroom experience of over forty years. Our students look forward to returning because our enjoyable lessons inspire young writers.
Javy begins to tap away at the keyboard after constructing a working outline with three bullet points and a thesis statement. After reading a sample paragraph about a Persian cat named Gringo, Maia starts filling in her own details about her favorite pet. Words begin to flow and ideas start to come to life.